North Vietnam vs South Vietnam: What's best for a 2-Week Vacation?
25th August 2023
Are you wondering about the pros and cons of North Vietnam vs South Vietnam for your next vacation? We've got you covered with all the highlights of each region, including the amazing areas around the cities of Hano and Hoc Chi Minh City.
North Vietnam vs South Vietnam
With the huge growth of tourism in Southeast Asia, Vietnam is becoming a very popular vacation destination.
Vietnam has been on the backpacking map for a long time but only over the past few years have non-long-term traveller friends of ours started to ask our opinion on where in Vietnam they should visit if they only have 2 weeks in the country.
As a long-term backpacker, with all the time in the world, Vietnam is a very easy country to travel.
Not only is the tourist infrastructure well established, but the shape of the country makes it straightforward to get around.
Vietnam's tall and thin body allows you to travel effortlessly from North to South or vice versa in almost a straight line, picking which of its many interesting sights, beaches, and cities you'd like to see along the way.
When booking a two-week trip to Vietnam the first thing to consider is which of the two main cities do you want to fly into.
The two main cities in Vietnam are Ho Chi Minh in the South and Hanoi in the North. Both Ho Chi Minh and Hanoi are great cities but you won't want to spend much longer than 3 days in either if you have only a 2 week limit on your stay.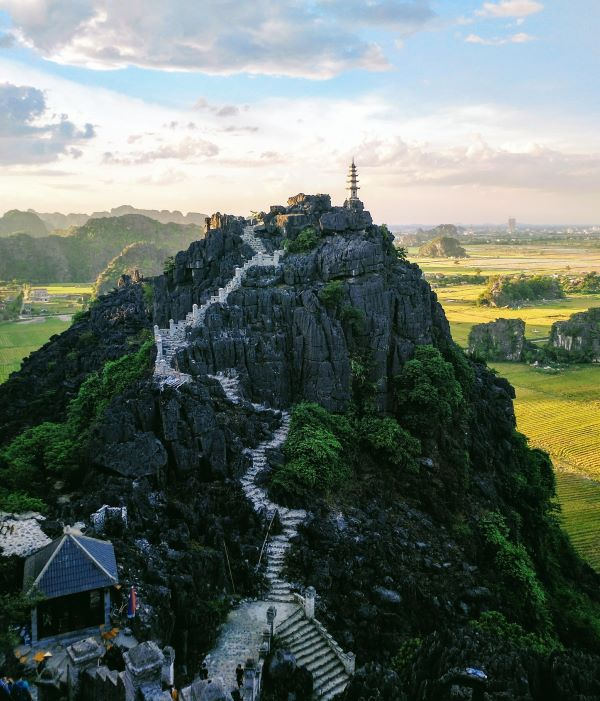 So to help you make that decision not only research those cities themselves but also find out what other Vietnamese destinations are within a comfortable distance for you to travel to.
Another important factor is when are you planning on going. The weather can change dramatically between the different regions as they have their own wet/dry/cool/hot seasons. 
It pays to imagine the country as three separate destinations when researching the weather for your intended visit – north, central, and south.
In general, the best time to visit Vietnam is between November and April as these are the driest months across the country.
In general, the best time to visit Vietnam is between November and April as these are the driest months across the country. In general, the best time to visit Vietnam is between November and April as these are the driest months across the country.
But bear in mind that these are also the coolest months in the north if you're looking for some warm weather to enjoy.
Temperatures in the south are almost consistently around 30 degrees Celsius year-round. Central Vietnam is mostly dry from January to August and wet for the rest of the year.
Temperatures around Central Vietnam can differ greatly at the same time of year due to the mountain ranges in the area.
And lastly, maybe Vietnam is part of a larger SE Asia trip such as a Vietnam Laos Cambodia Tour? Depending on your route and which other countries you're travelling to and from, this will dictate which part of Vietnam you'll be entering.
So, get started by ordering your Vietnam visa, and let's briefly compare the two cities.
Related reading: The Complete Guide to Booking and Riding Buses in Vietnam
South – Ho Chi Minh
Ho Chi Minh, or Saigon as some still call it, is Vietnam's largest city and is the economic centre of the country.
With a population of 9 million it's a busy place and with this comes heaps of traffic and pollution. But this is to be expected with any big Asian city so should not put you off.
The big draw card here is the many Vietnam War sites as this part of the country played a big role in the long and costly conflict between the North and South.
In the city itself, you'll find The War Remnants Museum, which tells a very graphic version of the war through its many artifacts and photography galleries.
We also enjoyed exploring the city's Reunification Palace which has been left almost untouched since April 1975 when the North Vietnamese forces took over.
Just outside the city, you can visit the Cu Chi tunnels, a fascinating network of narrow underground tunnels built by the Viet Cong in the 1960s to facilitate the control of a large rural area just outside the city.
Only a small number of tunnels are accessible now to tourists but at its peak, the network in the Cu Chi area alone had 250KM worth of muddy tunnels which housed kitchens, living areas, hospitals, and weapon factories!
One of our favourite city sights is Ben Thanh Market. Located in the lively city centre the covered market is everything you'd expect from a bustling Asian shopping and eating hub.
From local clothes piled high to souvenirs of all kinds but the highlight for us was the eating hall with a vast array of open kitchens cooking up every Vietnamese dish known to man.
Take a stall, grab a pair of chopsticks and tuck into some delicious local fare while you watch the locals go about their day and wide-eyed tourists taking in the sights and smells.
If bakeries are your thing, as it is ours, then Ho Chi Minh will have you smiling from ear to ear as you stuff your face with cakes, pastries, and baguettes in the city's many French bakeries.
The Vietnamese have continued making these French delicacies since Vietnam gained independence from France in 1954.
In general Ho Chi Minh has a more Western feel with its wide city streets, high-rise buildings, and more modern Vietnamese population.
North – Hanoi
Hanoi, the Vietnamese capital, although not as large as its Southern rival is still pretty big with a population of 6.5 million.
Hanoi feels more Vietnamese and more authentic and the locals seem to be living a more traditional way of life compared to those in Ho Chi Minh.
With its abundance of French colonial architecture, the city is often referred to as the Paris of the Orient. We enjoyed wandering the old quarter, visiting the endless little shops and coffee houses.
Some of the streets are narrower and maze-like so hours can be spent meandering the pavement in search of your next noodle soup hit.
Hanoi does have its fair share of traffic and noise but it's not as fast and furious as Ho Chi Minh. And even if it's still too much for your liking Hanoi has plenty of green spaces to get away from it all.
Hanoi is a city of leafy boulevards, peaceful parks, and calm lakes. Hoan Kiem Lake is based in the historical centre and is a popular place for walks, picnics, and morning t'ai chi classes on the shore.
The lake also surrounds Ngoc Son Temple, isolated on an island that can be visited by tourists.
Hanoi also has plenty of museums and sights to satisfy history buffs. The most popular is the monumental, marble structure of Ho Chi Minh's Mausoleum.
So many visitors go to see the frail, pale body of Ho Chi Minh that at times ques snake for 100s of meters!
We also enjoyed the excellent Vietnamese Women's Museum which showcases women's role in Vietnamese society and culture.
Other destinations to visit during your two-week vacation
So you're done with Ho Chi Minh or Hanoi, you want to get out of the city and explore other places that aren't too far away. Where would we recommend?
We could write a separate post on all of these destinations but for this post, we simply want to give you a brief overview of each to help with your decision.
If you've heard of other places that are not mentioned in this post then we either haven't been there or we've been but would not recommend.
South – Mui Ne, Mekong Delta & Phu Quoc
Mui Ne
Mui Ne is a long stretch of beautiful beach about 200 km to the east of Ho Chi Minh. Easily reached by one of Vietnam's many bus services in about 4 hours.
Thankfully its coastline is lined with only low-rise beach resorts, most of which are set amongst pretty gardens and pools just off the sand.
Travellers of all budgets will find somewhere to stay here and the coast road running behind the resorts offers a string of restaurants, cafes, and bars to satisfy most tastes.
With big waves, Mui Ne is the adrenaline capital of the south as large numbers of surfers, windsurfers, and kiteboarders head here at seasons with high winds.
For something different take the coast road north until you reach Mui Ne's enormous red and white sand dunes.
We opted to enjoy the Saharaesque landscape by plastic sled rented from some local children while others spoilt the peace and quiet riding dune buggies and quad bikes.
Mekong Delta
The Mekong Delta in southern Vietnam is a vast maze of rivers, swamps, and islands, home to floating markets, pagodas, and villages surrounded by rice paddies.
Boats are the main means of transportation, and tours of the region can start in Ho Chi Minh City but we opted to travel to and stay in Can Tho, a bustling town in the heart of the delta.
We recommend making the effort to stay at Can Tho so you are able to soak up the local Mekong Delta lifestyle rather than rush through it with herds of other tourists.
This also enabled us to find a cheap private tour guide that met us before light so we could watch the river come to life during sunrise while floating downstream on route to one of the famous Mekong floating markets.
Again Can Tho is easily reached by bus or taxi in about 4 hours from Ho Chi Minh.
Phu Quoc
Another Southern Vietnam highlight is the island of Phu Quoc.
Close to the border with Cambodia, the island can be reached by a short flight from Ho Chi Minh or a longer bus ride and boat for the more adventurous or budget-conscious.
Since we were already halfway there in Can Tho we chose the bus/boat mode of transport, then caught a flight back to Ho Chi Minh after our stay.
Unlike Thailand, Vietnam is not known for its tropical islands but Phu Quoc could easily rival any one of them.
Pristine white sand, calm waters, swaying palm trees, and beach huts are there for the taking and most tourists choose to enjoy all this along the main Long Beach which has the biggest choice of resorts.
The Long Beach crowds can easily be escaped by diving the island's reefs, kayaking around its bays, or doing as we did and exploring the island's more remote beaches and jungle backroads by moped.
North – Sapa, Halong Bay & Cat Ba
Sapa
Sapa is a beautiful, remote, mountainous town close to the border with China. Although only 380 km from Hanoi the journey can take up to 9 hours due to the winding, slow mountain roads.
Most visitors reach Sapa by an overnight train from Hanoi which is a great experience in itself. Sleeper trains are much safer and more comfortable than taking the other option of a sleeper bus.
We've heard accidents are common on mountain roads so be careful.
Sapa, overlooking wonderful rice fields is a popular destination for trekkers as the Muong Hoa Valley offers plenty of walking trails and the option to climb the nearby 3143m tall Fan Si Pan Peak.
Although still home to local hill tribes, Sapa has seen a lot of tourism in recent years so it's not unusual to see local women chasing tourists down the street in pursuit of a brightly coloured clothing sale.
It's worth visiting some of the neighbouring villages where tourism has not had such a negative impact.
Some of these villages can be reached on foot so it's a great excuse to head out and discover more of the stunning mountain scenery.
Halong Bay & Cat Ba
The UNESCO World Heritage Site, Halong Bay, is one of the most visited sites in all of Vietnam. The emerald waters graced with amazing towering limestone rock formations never fail to impress.
There are said to be around 2000 of these uninhabited islands!
Both mystical and magnificent the incredible feat of nature is, of course, best explored by boat using one of the many tour operators in the area.
Choose from a half-day cruise to a full-on overnight stay aboard a boat hotel. But choose carefully as with a lot of destinations on popular young backpacker routes, we've heard reports of some boats being all-night parties.
Most tourists choose to stay at Halong City, a busy tourist town where most cruises depart. Or you can do as we did and stay on Cat Ba island.
Cat Ba is the largest of the 367 islands spanning 260 km² that comprise the Cat Ba Archipelago, which makes up the southeastern edge of Ha Long Bay.
This part of the bay is much less frequented by Western tourists so it's ideal for those travellers seeking something off the well-trodden tourist trail.
Cat Ba island itself is well worth exploring and can be done on foot. Many paths lead to some lovely little-coved beaches that were not crowded at all when we visited.
At 188 km from Hanoi, Ha Long Bay is another easy to get-to destination and should be a must-do if in Northern Vietnam.
Central Vietnam – Hoi An
Now we know this post is discussing North and South Vietnamese options but we cannot finish it without at least mentioning Hoi An which lies slap bang in the middle of Vietnam's coastline.
Hoi An is our favourite Vietnamese destination and SHOULD be considered, even though it isn't close to either of the two main cities.
If 2 weeks is your limit then an internal flight is the best option to get to Hoi An.
There is nowhere else in Vietnam like Hoi An. One of the only towns not destroyed by the Vietnam war, Hoi An is a picture postcard of how Vietnam used to be.
Silk lantern lit shop fronts, atmospheric markets, old yellow houses decorated in flower-filled vines, ancient temples, and fishermen hauling their catch of the day from their boats on the riverside.
Our favourite time of the day was at night when the town glows by candlelight from the many flickering lanterns on the streets and river. Adding a huge choice of restaurants, cafes, and bars Hoi An is a must.
Plus just a few kilometres outside of the town lies the breathtaking central coastline. Miles and miles of almost untouched white sandy beach.
We hired a bicycle and got there in just 30 minutes passing through local suburbs.
We walked along the shore for miles and aside from a couple of resorts, we found nothing but sea, sand, and traditional fishing boats. We guarantee it won't stay like that for much longer.
North and South Vietnam
North Vietnam vs South Vietnam doesn't have to be an "either/or" choice – you can always spend at least some time in both North and South Vietnam! Choosing which region of Vietnam is best for you should be based on your tastes and interests.
If you want lively hustle and bustle then head to Ho Chi Minh.
Prefer a more relaxed atmosphere then Hanoi is for you. Want to relax on a beach, we'd suggest the South.
If trekking is your thing, then head north.
But whatever region you choose, rest assured your visit to north or south Vietnam will be a rewarding one.