Northern Thailand Itinerary: The Best 7-Day Itinerary
26th August 2023
Need a Northern Thailand itinerary for one week or more? Look no further. This 7-day Northern Thailand itinerary will guide you through some of the best destinations in the beautiful mountainous North – Chiang Mai, Chiang Rai, Chiang Dao, Doi Inthanon National Park & Pai.

Day 1: Bangkok to Chiang Mai
Your Northern Thailand itinerary starts then by taking a flight from Bangkok to Chiang Mai city, a journey that takes a mere hour and ten minutes.
(We're assuming that your Thailand trip starts where most do, in Bangkok city. In case you're coming from southern Thailand, however, you can still fly from the major southern airports and reach Chiang Mai in around 2 hours)
A red Songthaew (shared minibus), tuk-tuk, or taxi from the airport will take you to the city.
Check for Bangkok to Chiang Mai tickets:
Take a bus, ferry, or train to the world's best locations
Find my travel tickets
Check for Bangkok to Chiang Mai tickets:
The old city of Chiang Mai is enclosed in red brick walls, resembling its glory days. Spend a day walking around the city's narrow streets and along its canals to enjoy your Thailand holiday.
You will see that Chiang Mai remains a charming city, despite having embraced modernity.
From swanky cafes and 5-star hotels to ancient temples, traditional Thai massage spots, and amazing Chiang Mai street food, it toggles on both ends of the spectrum.
There are many temples that you can explore on the first day of your 1 week Northern Thailand itinerary – the most popular ones are Wat Chedi Luang and Wat Phra Singh.
Close to the city lies Wat That Doi Suthep, which is perched on the top of the mountain. You can easily reach it by hiring a Songthaew or if you're fit and healthy make the 2-hour steep climb on foot.
Related article – The 8 Best Chiang Mai Street Food Spots
Day 2: Day Trip to Doi Inthanon National Park
On day 2 of your Northern Thailand itinerary take a day trip to Doi Inthanon, the highest summit in Thailand. It's a national park with astounding scenic beauty and a number of animal and bird species.
After enjoying the cool, cascading Wachiratharn Waterfalls, you can take the steep, but short climb to the summit. Check out the two Chedis which have been built in the Lanna style in honor of the king and queen.
Inside the chedi you'll find Buddha images and detailed murals that depict the life and contributions of the king and queen. There is also a garden and a museum between the pagodas about the royal projects initiated by King Bhumibol.
But it's really the view people come to the Twin Pagodas to see!
Alternatively, if you are one of the adventurous kinds, Chiang Mai has plenty of action, right from white water rafting, to ziplining through the rainforest to hiking in the jungles.
Or for something totally different take a self-drive tuk-tuk tour into the countryside.
Chiang Mai's night markets
Head back to the city by evening and check out the famed night markets. They are great places to pick up funky souvenirs and cheap clothes.
Chiang Mai's Night Markets are a lively symphony of sights, sounds, and scents. You can wander through a maze of stalls displaying a vast array of items, from local handicrafts and jewelry to clothing and tacky souvenirs.
Night markets are also the best places to savour some mind-blowing local cuisine. There are all kinds of Thai street food at the night markets, including Thai food classics like pad thai, mango sticky rice, and spicy northern sausages.
On some nights you'll also be treated to live street performances and traditional Thai music acts and of course, there are dozens of foot massage places in the markets!
(Try to time your visit to Chiang Mai so that you can experience the Sunday night market.)
Day 3: Chiang Mai to Pai Canyon
Take a minibus from Chiang Mai and head to Pai, Thailand's laidback mountain town.
The bus ride would take around 4 hours as the roads are quite steep and winding. You better pop a motion sickness pill before starting the journey.
Tucked away in the mountains, Pai is full of lush greenery, gushing waterfalls, and roaring rivers – the ideal place to be if all you want to hear is the sound of nature.
This is where you are most likely to spot hippies sporting dreadlocks, idling away in the company of nature.
After a hectic drive, relax your body and mind at the Tha Pai Hot Springs. Nestled in the forest, it's a short drive from Pai town.
A soothing bath later, head back to town and enjoy a drink or two at a mellow pub.
Make sure to book yourself a room in Pai as the distance from Chiang Mai is too much for a single-day trip.
Related article – Things to do (and not to do) in Pai
Day 4: Explore Pai's natural wonders and return to Chiang Mai's old city centre
Pai's biggest attraction, one that you must not miss in this Northern Thailand itinerary is the Tham Lod cave. It's an impressive cave with a river running through it.
The entrance to the cave can only be reached by wooden rafts.
The huge cavern is filled with stalagmites and stalactites of various shapes and sizes. There are staircases to visit various parts of the cave. The trail on the opposite side of the cave leads into a forest.
You could also head to some beautiful waterfalls like Mo Paeng, Pam Bok, and Mae Yen Waterfall. Or take a stroll through the Pai canyon which is best visited at sunset for spectacular golden views of the surrounding mountains.
Ensure that you have a scooter with you to navigate around Pai. There isn't any public transport here.
All this exploring is bound ot make you hungry. I loved the Pai walking street for its delicious food.
Catch the last minibus that leaves for Chiang Mai.
Day 5: Take a day trip from Chiang Mai to Chiang Dao
Chiang Dao is a quiet mountain town which makes for a great rural getaway. Almost like a quieter version of Pai.
The roads are smooth and easy to ride, so it's recommended that you do a self-drive trip.
It would take just around 1.5 hours to reach Chiang Dao so it's easily doable as a day trip on your 7-day Northern Thailand itinerary.
Chiang Dao has plenty of interesting things to do. You can climb the Doi Chiang Dao, Thailand's 3rd largest peak. It would take a total of 5 hours.
Or you could take an easier trail through the forest and stumble upon the Chiang Dao caves.
The nearby Sri Sungwan Waterfalls make for a great place to enjoy a splash of cold water. It's a beautiful three-tiered waterfall flowing over peach-coloured rocks.
Chiang Dao also has several ancient temples like the Wat Tham Pha Plong, which has a steep climb of 510 steps. The view of Chiang Dao's treetops from the temple makes it worth the effort.
And while you're here, don't forget to savour some delicious Thai and international cuisine at the two incredible restaurants at the Chiang Dao Nest resorts.
Return back to Chiang Mai.
Related article – Things to do in Chiang Dao
Day 6: Chiang Mai to Chiang Rai
No Northern Thailand itinerary is complete until you've been to Chiang Rai. Chiang Rai is a short 3-4 hour greenbus ride from Chiang Mai.
Most popular Chaing Rai Temples
White Temple
Chiang Rai's highlights include one of Thailand's most popular temples – Wat Rong Khun, more popularly known as the White Temple.
The exteriors of the temple are an architectural masterpiece. The interiors are just as incredible with murals of superheroes, villains, and pop artists adorning the walls.
Blue Temple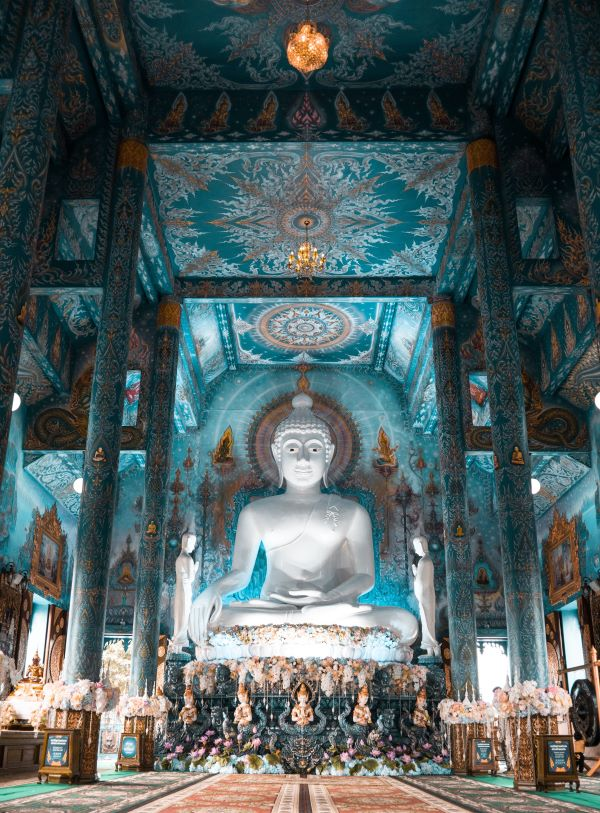 The Blue Temple (Wat Rong Seur) is my favourite temple in Chiang Rai because of its brilliant azure blue and gold interior surrounding the giant white Buddha inside a tall teak temple.
Black House
More popular though, is the Black House which is an art museum created by Thai artist Thawan Duchanee (who also lives here).
The Black House is actually a complex of 40 buildings, that display a mix of traditional northern Thai architecture and eclectic art installations, including animal bones, skins, and dark-themed paintings.
The Golden Triangle
If you fancy, take a tour of the Golden Triangle along the Mekong River – a point on the river where the three countries Thailand, Myanmar, and Laos meet.
The Golden Triangle really is an unusual geographical and cultural experience and is Thailand's northernmost point.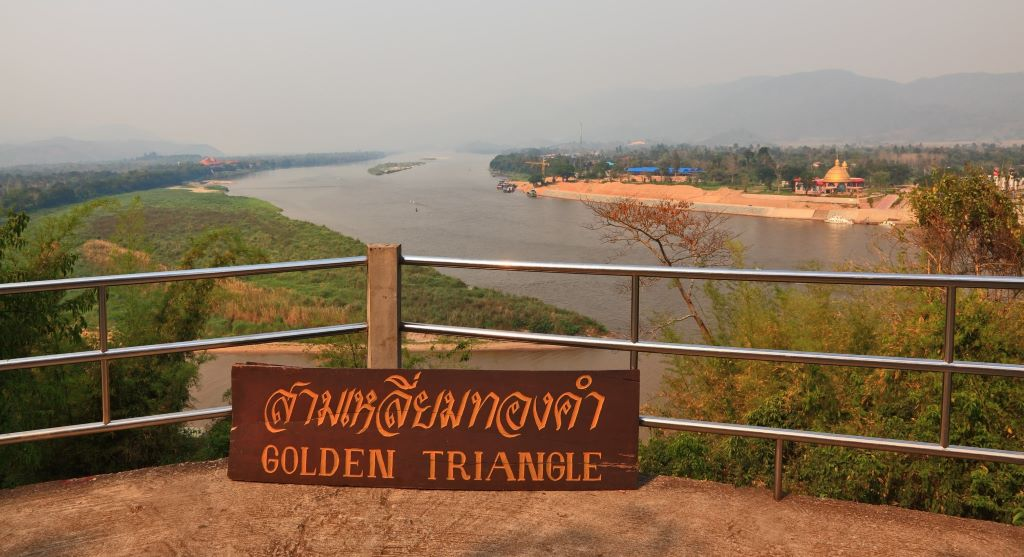 It's a historically significant part of Asia because of its ancient trade routes and it is also a hub of indigenous hill tribe communities.
Hire a private cab or take a bus to get to the base of Phu Chi Fa, for your trek the next morning. You can stay at a guesthouse near the mountain.
Day 7: Trek to Phu Chi Fa
Early morning, get ready to witness the best sunrise you have ever seen. A short trek of 30 minutes takes you to the summit, where you will see a tripod and selfie stick-toting tourists.
The sun rises amidst a sea of clouds, with the peaks looking like boats floating on the foamy sea.
The rising sun illuminates the valley below, again a point where the three countries Thailand, Myanmar, and Laos meet.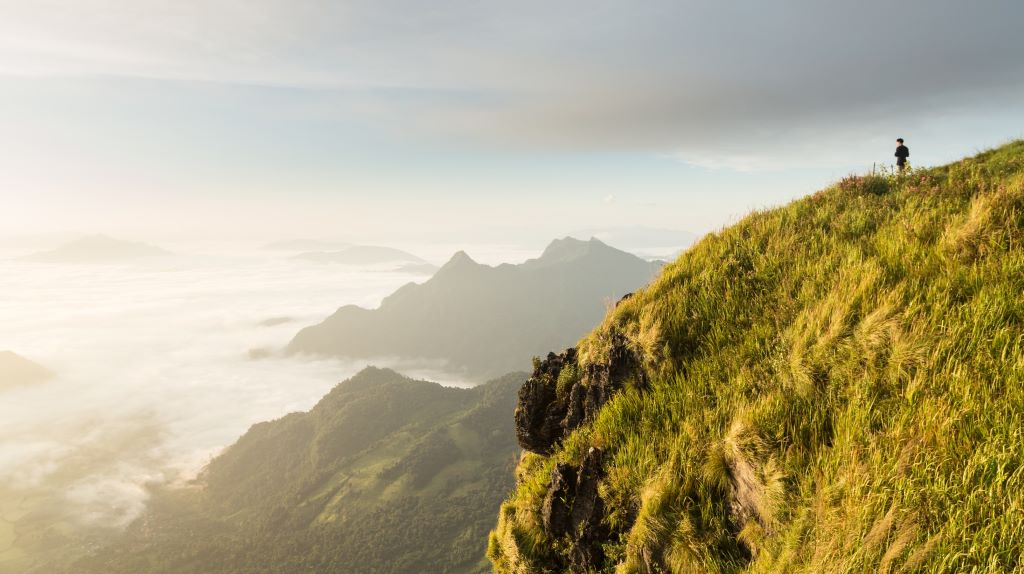 After catching a breathtaking sunrise, head back to Chiang Rai to catch a bus back to Chiang Mai to finish your one-week Northern Thailand itinerary.
Ensure you have your flight scheduled for late evening or nighttime.
Mae Hong Son
If an adventure in Chiang Dao, Pai, or two days in Pai seems too much on a short itinerary, you could instead take one day of your Northern Thailand itinerary as a day trip to Mae Hong Son.
Mae Hong Son is a peaceful little town close to the Myanmar border. It's an ideal place to get to see everyday life in Northern Thailand.
You can eat at a restaurant on the Salween River, visit the Temple above the town, Wat Phra That Doi Kong Mu, and watch the locals chatting, playing games, and practising tai chi around the shores of Jong Kham Lake (there's also a great night market).
Mae Hong Son is also an excellent place to begin a trek to a hill tribe village or just a trekking trip through the mountains near the border for nature lovers who'd like to explore some of the hiking trails in the northeast.
Looking for more itineraries for your Thailand trip? Browse similar itineraries for Phuket & Krabi or if you have a second week left for your trip, then check out our 7-day South Thailand itinerary!